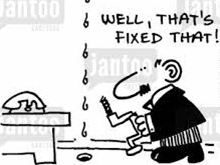 It's the appraiser's job to be sure your roof meets minimum FHA standards. The appraiser is looking to see if there are signs that the roof leaks or allows moisture to enter the home. FHA also requires the roof to have a remaining physical life of at least two years. If the roof has less than two years remaining life, then the appraiser must call for re­roofing or repair. Any leaks or moisture due to a problem with the roof must be noted in the appraisal report. Any noticeable holes, water damage or other problems must be noted.
It's important to remember that FHA appraisers are not necessarily trained experts on roofing issues. The borrower must take it upon themselves to have a home inspector look over the roof and other critical areas of the property.
FHA appraisers are not required to be specialists in any one particular area. Borrowers concerned about the state of the roof or wondering about the remaining years left on it should hire a home inspector and ask specifically about those issues prior to the FHA inspection. Borrowers should never assume the property is defect­free just because it passed the FHA appraisal.
If you have any questions concerning FHA Appraisals just give us a call at 706-633-3709!